Heritage Estates Livermore is a community that not only oozes unmatched charm but also prioritizes the health and happiness of its beloved residents and building employees. This unique neighborhood, which is tucked away in Livermore's natural splendor, is a monument to brilliance, demonstrating the ideal fusion of luxury and security. 
It is best to choose the best painting contractors to ensure that exterior painting on a multi-tenant building is executed accurately. However, even professional painting companies encounter challenges when working on painting projects. In the case of buildings, it is often not feasible to interrupt operations or shut down to paint the exteriors. As a result, painting companies need to devise strategies that prioritize the safety of both tenants and staff within the building.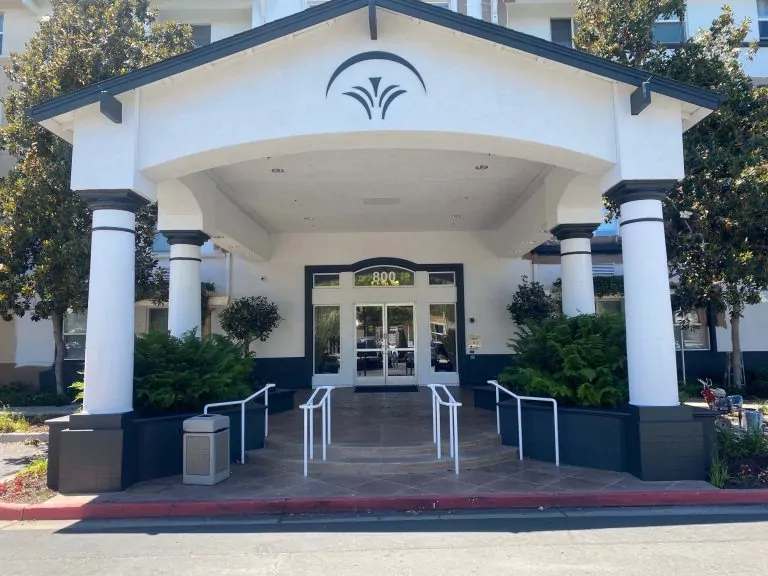 About the Project
As the pinnacle of sophistication and security, Heritage Estates Livermore guarantees the highest level of protection for both its cherished building staff and respected residents. The building's size, which spans an amazing area, is a monument to its opulence and careful planning. The estate includes a variety of opulent residential apartments and facilities, which are all carefully planned to offer a safe and peaceful living experience. The estate strikes a delicate balance between space and utility.
Safety is a priority in every aspect of Heritage Estates Livermore's design, including the flawless exterior elements that enclose this work of art. The dedication to safety is obvious as soon as one enters the estate. The perimeter is strengthened with cutting-edge monitoring systems, providing round-the-clock attention, and majestic gates guard the entry, assuring regulated access. 
Rich landscaping enhances seclusion and security while also adding to the beauty of the surroundings by acting as a natural barrier.  The grounds include enough illumination, ensuring well-lit walkways and communal spaces and enhancing comfort and visibility at night. The estate's preparation for any situation is further demonstrated by carefully planned emergency escape routes and strategically positioned fire hydrants. The Heritage Estates Livermore building is an excellent example of how safety and beauty can coexist, fostering a peaceful, secure atmosphere for both building staff and tenants.
Nevertheless, here are some tips on how to do the exterior painting while causing a small number of disruptions to tenants: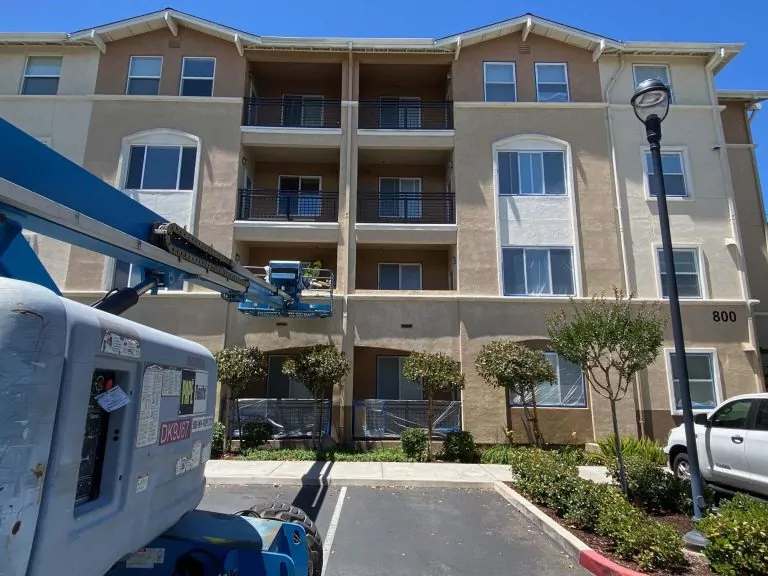 Advanced Planning
Every home has a busy area that requires extra care during this kind of job. It could be essential to impose restrictions that restrict access to parking lots and pedestrian pathways. During renovations, certain entrances can be momentarily restricted. Talk about these issues with your painting contractor. An expert with knowledge will know how to lessen the impact on renters. 
Perhaps the work can be finished when there are fewer tenants around, and activity is reduced at a slower period of the day. Giving everyone a head's up about the required effort will help to a great extent to lessen tension throughout the project. People like being informed about locked doors and alternate routes.  The possible "hotspots" may be pointed out to your contractor, who can then use previous encounters to address your concerns.
During the Project
Clear warnings placed to alert tenants of wet paint or closed entrances can assist in reducing stress while the renovation is being completed. Keep the main office entrance free of obstructions. As new tenants arrive, they get their first impression of the building. Existing renters are welcome to come in for business or to pay rent. It is ideal for painting near the office when there are not many people around, like after work. An experienced commercial painter is the best choice for the job. Unexpected costs can always arise while painting a room, but a seasoned painting business can provide you with a more precise estimate of the final cost and will finish the job promptly.
Benefits
When the renovation is over, your renters will delight in the facility's newly painted interior. The majority will be pleased to see the painting and repair work being done. Reiterate the end outcome to anyone who may be unsure, and let the renters know that you would be pleased to discuss any issues with the contractor while the renovation is underway. Prospective tenants will notice that your property needs basic care. With careful preparation and the help of a qualified painting contractor, painting the outside of commercial real estate does not have to be a difficult process.
Challenges and Concerns
Falls
In high-rise structures, falls are a major source of injuries and fatalities. This is because the fall distance increases with building height. Guardrails on balconies and stairwells, as well as emergency call buttons in each apartment, are just a few of the safety precautions Heritage Estates Livermore has in place to help avoid falls.
Fires
High-rise buildings provide a serious risk to inhabitants and employees since fires may spread swiftly there. There are several fire safety precautions in place at Heritage Estates Livermore, including sprinkler systems, fire alarms, and emergency evacuation protocols.
Elevators
Elevators in high-rise buildings can be dangerous, especially if they break down. To help prevent elevator mishaps, Heritage Estates Livermore has many safety measures in place, such as routine inspections and maintenance.
Windstorms
High-rise structures can be seriously endangered by windstorms. This is due to the possibility of the structure swaying or possibly collapsing during severe winds. Guy wires and windbreaks are a few of the safety elements that Heritage Estates Livermore has installed to assist in shielding the structure from windstorms.
Safety for the staff, as well as the tenants and employees of an inhabited area, is always one of the main priorities. Special precautions must be taken to ensure the safety of the more than 100 residents who lived in the building and had lived both inside and outside.
Because of the building's height, an aerial boom is needed to lift and access the highest parts of the structure. Due to weight limits imposed by the building's foundation, which is an underground parking garage, it is unable to access the middle courtyard, which makes up half of the structure. The building is surrounded on two sides by walkways with constant foot activity and is situated at the intersection of two major streets.
Heritage Estates Livermore is dedicated to maintaining the safety of both its residents and staff. There are several safety measures in place at the building to assist in avoiding accidents and injuries. Additionally, residents are informed about safety dangers, and the staff is trained in safety practices.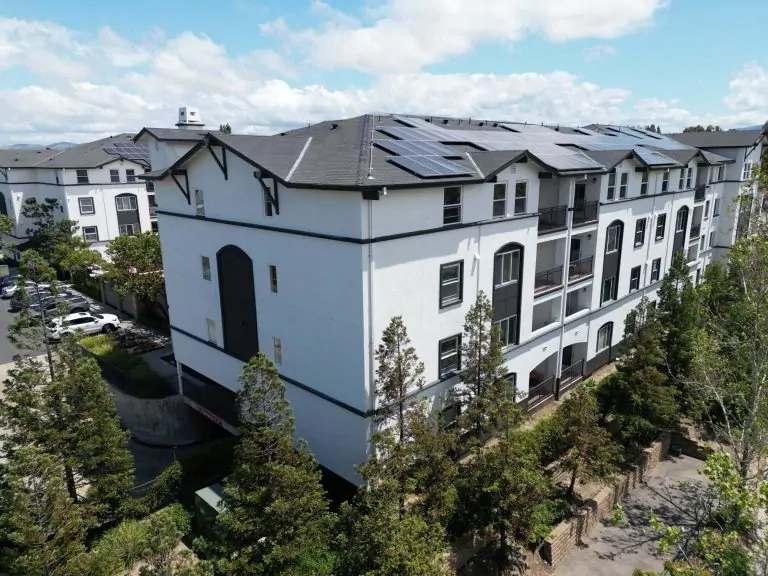 Considerations to Overcome Challenges
To ensure the safety of the employees and residents at Heritage Estates Livermore, planning and implementing measures that address challenges such as weight restrictions blocking doorways, and blocking sidewalks are important. 
Determine the weight-bearing capacity by performing a detailed evaluation of the building's structural integrity. Implement weight limitations for particular regions or floors, especially if they are not built to support big loads. Create awareness among residents and staff about weight restrictions and any possible negative effects of going over them. Install weight restriction markers and signage at key locations, such as entry points and elevators.
Make sure that all entrances and emergency exits are always clear. This is crucial for a swift and secure evacuation in an emergency. Residents and staff should be reminded to avoid putting items or furniture in front of doors. Check the halls and common spaces often for obstacles so that you may remove them right away.
To avoid blocking up the sidewalk, designate distinct locations for deliveries and package drop-offs. To guarantee adherence to sidewalk laws, coordinate with the local authorities. Residents should be reminded to pay attention to their surroundings and refrain from leaving their possessions or other things in public areas.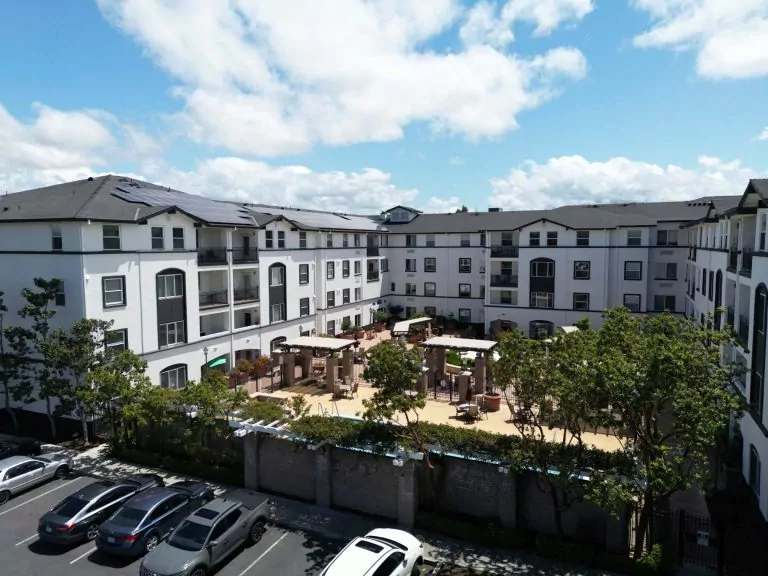 Painting Process
At Heritage Estates Livermore, the painting application procedure is meticulously designed and carried out to reduce the danger of exposure to toxic substances. For the security of everyone participating, the following actions are taken:
Professionals with experience and licenses do all painting tasks

Gloves, respirators, and any other required safety gear are all worn

In order to avoid fume accumulation, the painting area is appropriately ventilated.

All dangerous substances are duly disposed of
Heritage Estates Livermore takes precautions to ensure the health and safety of its personnel and residents both before and after the painting is finished, in addition to the safety precautions done during the painting application process. These actions comprise:
Place cautionary signs around the painting area

educating locals and workers about the dangers of the substances being utilized

allowing those who work or live there to leave if they do not feel comfortable with the artwork
Heritage Estates Livermore is dedicated to protecting everyone engaged in the painting process by adopting these precautions. Here are some extra safety recommendations for locals while painting is being done:
Close all windows and doors to stop odors from spreading

Keep your hands off painted surfaces

Contact your property manager if you have any questions or concerns regarding the painting project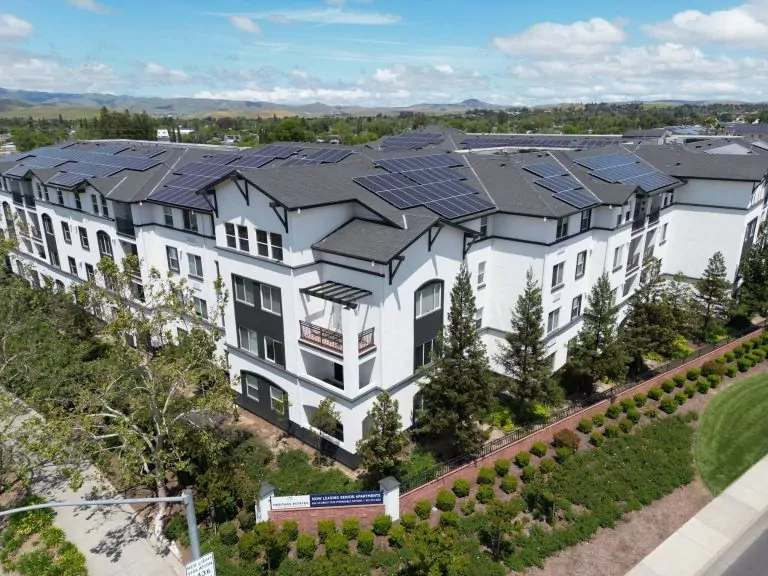 Conclusion
Heritage Estates Livermore is the pinnacle of style and security, combining luxury and protection to provide a tranquil living environment for its valued residents and building personnel. In such a community, it is crucial to put the inhabitants' safety first and limit interruptions when painting. The building administration takes the essential safety procedures while painting and alerts inhabitants to any potential annoyances. The estate upholds its dedication to the welfare and happiness of everyone involved by meticulously establishing and following safety standards. 
Custom Painting, Inc. will help you plan your forthcoming Dublin, CA commercial painting tasks. Whether you already have a plan for your future painting project or you're searching for a professional opinion to help you choose colors that complement your brand, we can manage your project. Call us at 510-795-0903 to set up a viewing of your property and get a free estimate.