A clean property not only produces an appealing sight, but it also makes the place safe. Traditional cleaning methods, such as manual scrubbing and using chemicals, tend to be too harsh and time-consuming. Also, they don't always provide the best results – there might be dirt still lingering on the surface. Worse, these conventional cleaning methods might even cause damage to exterior surfaces.
Therefore, if you want to clean your Dublin, CA, home or commercial space quickly and efficiently, pressure washing is the answer.
Custom Painting, Inc.'s professional staff provides pressure washing services, which are one of the most effective cleaning methods. Read on to find out more about this service.
What does pressure washing include?
Pressure washing entails using pressurized water spray to remove deep-seated dirt, soot, grime, mud, mold and mildew, algae, and loose paint from a variety of surfaces.
A pressure washer is used for this job. As the name implies, it is a high-pressure mechanical water sprayer that can blast anything with powerful water jets. The amount of pressure ranges from 1,000 to 6,000 pounds per square inch (psi), depending on the model. But the most common range for commercial pressure washers is around 1,500 to 3,000 psi. It's that powerful, that it can even break things or cause serious injury if the pressure washer is not handled carefully.
Here are some of the common types of pressure washers:
Gas-powered – This type of pressure washer is usually very powerful, making it suitable for heavy-duty jobs such as cleaning sidewalks and removing paint. It is also portable. However, it tends to be noisy and is also not an environmentally sound choice.

Electric – An electric pressure washer ideal for smaller cleaning jobs, making it the most suitable option for home use. It is also typically quieter and more environmentally friendly than gas-powered ones.

Cold water – Cold water pressure washers are great for small-scale and general-purpose cleaning jobs such as facility and automotive maintenance.

Hot water – A hot water pressure washer uses heated water for the toughest cleaning jobs. Compared to cold water, Hot water pressure washers are more effective for removing built-up mud, grease, grime, and other stubborn stains.
Benefits of pressure washing your business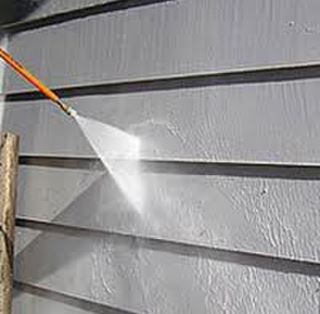 A commercial pressure washer quickly and effectively removes all the filth and old paint, keeping your commercial space free of dirt and making it clean and neat. So, make sure to invest in a high-quality pressure washer. 
Here's how pressure washing can benefit your business:
It prevents damage to your property, which means fewer repairs.

It improves your building's curb appeal.

It makes the space a lot safer and healthier.

It saves time, money, and energy.

It increases property value.

It prepares the surfaces for painting, staining, and other protective coatings.

It is an environmentally safer cleaning option compared to chemicals.
Benefits of hiring professional pressure washing services
If you think you can do pressure washing yourself, leave the job instead to professionals, such as the skilled team at Custom Painting, Inc.
Professionals have access to the correct equipment.

Professionals are better trained in handling pressure washers. This means they are less likely to cause accidental damage to your property or injure anyone.

It ensures deep and thorough cleaning of surfaces.

It saves you more time, money, and effort.

It gives you peace of mind.

It offers customizable cleaning plans.
Choose Custom Painting, Inc. for your pressure washing needs
Having a professional washing service can provide you with a range of benefits, from having a sparkling clean space to saving time and money. 
For over 40 years, Custom Painting, Inc., has been focusing on providing our clients with an exceptional service. With years of experience and a team of experienced and dedicated professionals, Custom Painting, Inc. offers customizable plans to suit your specific needs, whether those plans are for exterior commercial painting, crown molding installation, or pressure washing. Contact us today at 925-294-8062 or message us and start your journey to a cleaner, safer, and more comfortable living or working space with us.