Flooring is one of the fundamental parts of any building in Dublin, CA. There are many popular flooring options to be considered, and if you ask professionals about the best type of flooring, they are likely to recommend epoxy flooring. They see it as the most durable, practical, and cost-effective, not to mention elegant, of all the flooring types.
Due to its combination of durability, protection, versatility, and aesthetics, epoxy flooring is recommended for both homes and businesses. Custom Painting, Inc., while one of the leading names in painting services in the Bay Area, also offers custom epoxy flooring services that will add foundational stability to your home and match its style.
What is custom epoxy flooring?
Epoxy flooring is a highly durable and long-lasting type of floor coating composed of two basic components: epoxy resin and hardener. When these two components are mixed, they form a rigid, plastic-like coating that is durable, stain-resistant, and easy-to-maintain surface.
One of the most distinctive characteristics of epoxy flooring compared to other flooring types is its versatility, as it can bond excellently to any flooring material, including concrete, tile, and even wood.
Our services
Here at Custom Painting, Inc., we will install custom epoxy flooring that will match the style of your home. Here are the following typical steps of the installation process:
Consultation and design – Our team can customize various epoxy flooring formulations and design specifications according to the client's requirements and preferences.

Surface preparation – The existing surface (typically concrete) is cleaned and prepared thoroughly, which can help the epoxy coating to bond properly.

Primer application – A coat of primer is applied to the cleaned and prepared surface to enhance adhesion.

Epoxy flooring installation – The two components of epoxy coating – the epoxy resin and hardener – are mixed according to the manufacturer's recommendation. Then, the coating is applied to the surface. Depending on the preferred finish and design, more layers of epoxy coating or decorative designs may be added.

Curing – The epoxy coating requires sufficient time for curing to form hardness. The curing period depends on the specific products used.

Finishing and sealing – Finally, a protective topcoat is applied to enhance durability and resistance to wear and tear. Then, it is left to dry completely.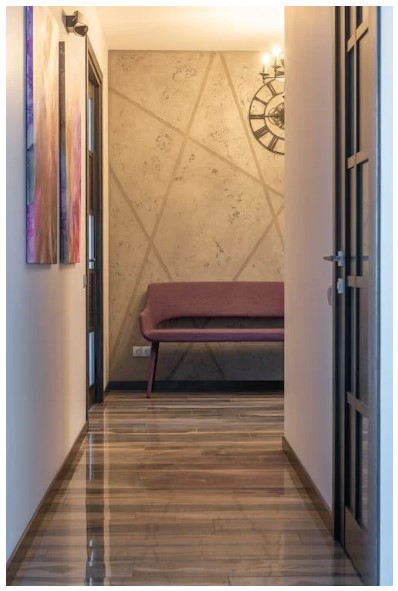 Advantages of custom epoxy flooring
Custom epoxy flooring, especially when done by professionals, provides a number of advantages:
Durability and longevity – Once properly dried and cured to the surface, the epoxy coating forms exceptional durability and resistance against everyday wear and tear. The epoxy coating can last many years if properly cared for and maintained.

Aesthetic appeal and customization properties – Having epoxy flooring makes your room look more elegant. Epoxy flooring is available in various colors and finishes and can be customized (such as additional design elements) according to the homeowner's preferences.

Easy maintenance – Epoxy flooring surfaces are stain-resistant, so they are easy to clean and maintain, keeping your space looking clean.

Improved safety – An anti-slip epoxy coating can be applied to minimize slipping and accidents that are common on slippery floors. This is especially suitable for areas that see a lot of high-foot traffic, such as kitchens, doorways, entrance halls, etc.

Increased property value – Adding durability to your floors and enhancing your home's overall aesthetic appeal, epoxy flooring can help increase your home's value. Epoxy flooring is a great way to update the look of your home because you don't need to spend a lot on replacing your existing flooring, yet it gives the floors a finished and luxurious look that will surely drive up your home's resale price.
Why choose Custom Painting, Inc.?
Choosing the best painting contractors in Dublin, CA, who will provide epoxy flooring services is important. Custom Painting, Inc. is all about painting. Still, our team of skilled builders can also make recommendations for the best epoxy flooring type in addition to the implementation of the epoxy floor coating. 
Here are some of the reasons why you should consider Custom Painting, Inc. for your next custom epoxy floor installation:
Over 40 years of experience in paint and light construction service industry

Licensed, bonded, and insured painters and carpenters

Proper surface preparation

Expertise in different painting techniques

High-quality and long-lasting workmanship and finish

Efficiency and time savings

Attention to detail 

Compliance to work safety standards

Cleanup services

Affordability

Written contracts and warranties
Contact us today!
Custom Painting, Inc. Is one of the leading painting service companies in Dublin, CA, and other locations within and around the Bay Area. Our over 40 years of experience have us equipped and ready for any project, whether it is a custom epoxy flooring installation, custom crown molding installation, acoustic ceiling removal, double-pane window installation, wallpaper removal, and wall painting, drywall and ceiling repairs, as well as interior and exterior painting.
 Do you want to upgrade and update your home with custom epoxy flooring? Call Custom Painting, Inc. at 925-294-8062 or send a message here to request a free estimate. Our experts will install and finish epoxy flooring with custom designs that will bring life and style to your home.