Removing wallpaper is a time-consuming, tedious, and messy job but it is not impossible. In fact, if you are not aware of the right method of wallpaper removal, then it can be frustrating for you as well. In another scenario, you can damage your walls or leave the job undone. 
Choosing the right method impacts the quality of end result significantly. The tips and tricks shared in this post may not make the task fun. However, you will surely be able to remove the wallpaper more efficiently with minimal to no damage. In this article, we are going to discuss different types of commonly-used wallpapers and the best ways to undo them.
Types of Wallpaper and Wall Surface
A wallcovering can transform a space from boring and dull to beautiful and aesthetic. For this purpose, a huge variety of wallpapers are present in the marketplace.
Types Of Wallpaper Materials 
The category 'wallpaper' is vast as it includes several kinds of wall finishing. The most common types include vinyl, strippable, peelable, etc. Depending on the wallpaper type, the methods used for removing wallpaper also vary.
Here is a simple way to determine the wallpaper type:
Grab a putty knife and try peeling the corner of the wallcovering with it. If the paper comes out easily, then it must be a peelable wallpaper. In other cases, it can either be vinyl or strippable wallpaper. Both of them are relatively hard to remove as compared to peelable ones.
1. Vinyl Wallpapers
These are made of fabric or paper with a vinyl layer on the front side. This type is available in many designs. Also, vinyl wallpapers are easy to maintain, durable, and a popular choice among consumers due to affordability. 
2. Paper Wallpaper 
As the name suggests, these wallpapers are made of paper (sturdier than your notebook paper but the texture and feel is somewhat similar). It is easy to apply yet not durable enough as compared to vinyl ones. 
3. Grasscloth Wallpaper 
Commonly, this wallpaper is made from raw jute, arrowroot, sisal, hemp, triangle grass, or reed. A fine thread is used to hold all the grass fibers, providing support and durability. Grasscloth is generally hand-woven and that's why it may cost you more than the other types listed in the category. 
4. Peel and Stick Wallpaper 
These are easy to install and remove. All you need to do is; peel off the packing and stick it to the required surface. Just make sure to clean the area beforehand to ensure a better stick. 
5. Bamboo wallpaper
In this one, natural bamboo is glued to the paper after being handcrafted. Its colors may differ due to the natural base. Bamboo wallpaper is eco-friendly, but it can get damaged while gluing and installation. Also, this type is not washable.
Types Of Wall Surface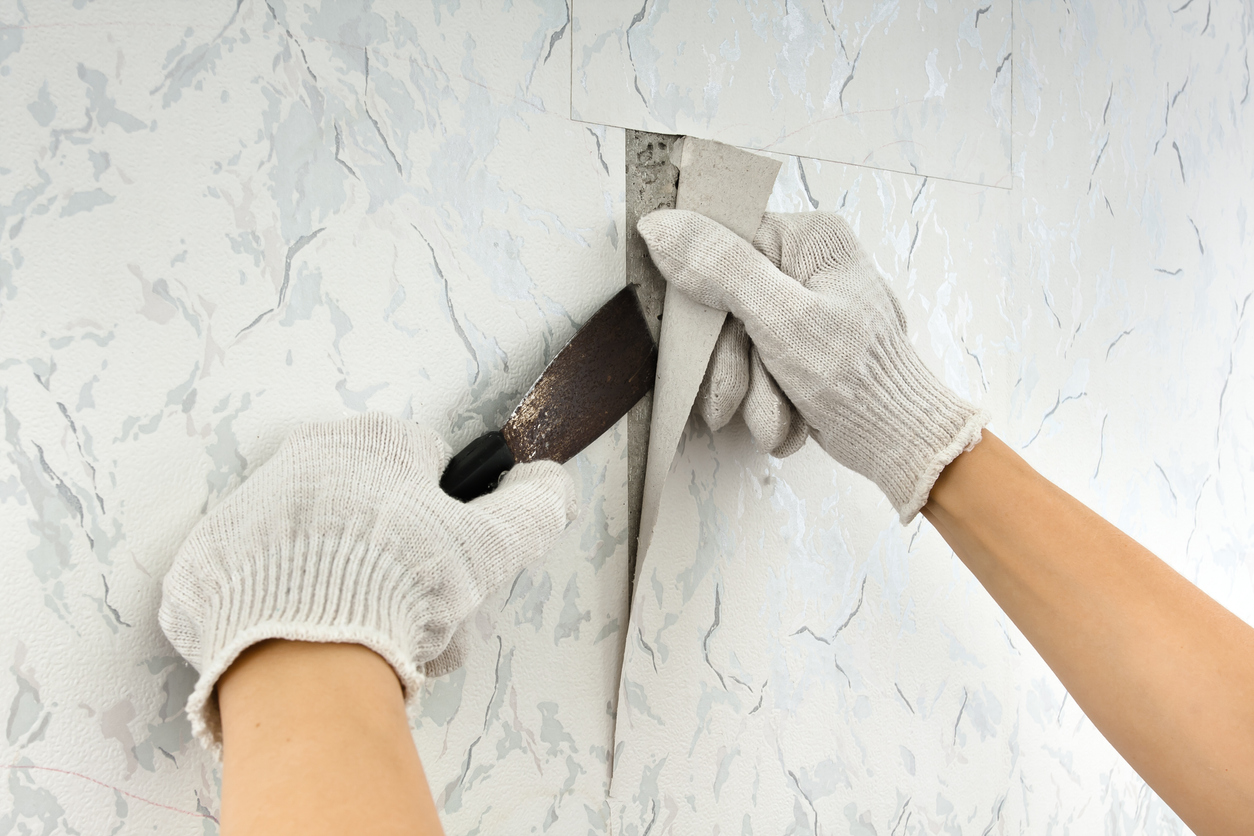 You can make the wallpaper removal task easier or harder by knowing about the type of wall surface present underneath it. Some surfaces would require more work than others.
1. Cement Plaster Wall Finish
One of the commonly found wall furnishings in buildings is cement plaster wall finish. It is easy and faster to achieve. It is prepared by combining cement, water, and sand in appropriate proportions. The final finish is then done by the float.
2. Plaster Of Paris Wall Finish
The combination of white powder and water makes the plaster of Paris. Then this mixture is applied to the wall surface where it hardens upon drying. The white powder used in making Plaster of Paris is powdered hydrated calcium sulfate. 
3. Drywall
Drywall and plaster are more or less the same material. Drywall is largely made of gypsum, calcium sulphate hydrate (a common mineral). It is inexpensive, easy to apply, stable, and fire-resistant. However, drywall can get damaged when oversoaked. 
4. Concrete/Concrete Block Interior Wall Surfaces
Typically present in the basement, concrete wall surface is strong and durable. It can be painted later after sanding for a smooth, finished look.
Common Wallpaper Removal Methods
There are several tried and tested ways to remove stubborn wallpapers that won't damage your walls. The methods consist of some tools and removing agents, including homemade chemical mixture and commercial removers.
1. Dry Stripping
As the title implies, if the wallpaper is peelable, you can easily remove it without using any chemical. All you need to do is; loose each strip from the corner with the help of a putty knife and peel the cover slowly at 10- to 15-degree angle.
Tip: Avoid pulling the wallpaper straight out as it can damage the wall surface, especially drywall.
2. Steam Stripping
Removing more than one layer of wallpaper requires a lot of labor, especially if the wallpaper is further covered with the paint layer. Moreover, if the wallpaper is not applied properly, then removing it without causing any damage is almost impossible. For similar tough tasks, you can rent a wallpaper steamer or buy one as per your convenience. 
For those who don't know, a wallpaper steamer is basically a hotplate fixed to a hose attached to a hot water reservoir which heats the water and provides steam to the hotplate. 
You are required to fill the steamer with water and allow it to heat up. Start the process from the top of the wall by holding the hotplate against the surface until the wallpaper softens. Once done, scrape the wallpaper with the help of a razor scraper. Meanwhile, move the steamer to an adjacent area so that it is ready to scrap off before you finish working with the previous area.
3. Chemical Solutions
There are two types of solutions that can help with wallpaper removal, homemade and commercial remover. 
To make DIY wallpaper remover, you need to mix vinegar with equal parts of water. Another option is to combine 25 % laundry softener with 75 % water. Before you begin, make sure to protect your floor by spreading a waterproof fabric on it. Moreover, it is suggested to tackle only one wall at a time to prevent any inconvenience. 
You can use a sponge to spread the mixture on the wall and repeat the process for several times. Wait for the liquid to work for 15 minutes and then peel off the wallpaper gently with a scraper. 
Commercial removers are different in composition from homemade removers, but both work for the same purpose – wallpaper removal. The base or acid used in the solutions acts as a catalyst and breaks down the adhesive glue. When acidic or basic remover reacts with the adhesive a process called 'hydrolysis' occurs. 
Commercial wallpaper removers are easily available in the marketplace in different forms. Liquid removers in spray form are handy among them.
Factors That Influence Method Choice
Before starting the wallpaper remover process, it is important to understand the following things: 
Wallpaper type and adhesion

– you simply can't choose a dry stripping method for rigid wallpapers with strong adhesives as it can damage your wall. Moreover, it would require a lot of effort. Similarly, it is not suggested to use chemical solutions for peelable wallpapers because they can easily come off otherwise. Choose the method wisely.

Wall surface condition

– If the wall surface is concrete, plaster, or wood; each of them would require a different method of wallpaper remover. So, do your homework before starting. 

Time and effort considerations

– wallpaper remover is time-consuming and requires hard work. If you can't invest your energy and time for the job, then go for wallpaper removal services by painting contractors Dublin, CA.

Tools and materials availability

– Different wallpaper removal methods require different tools. For instance, a scrap would be needed for the traditional scraping method, a steamer is important to remove covering through steam and a chemical solution is a requirement for other methods. Therefore, choose the best method for yourself according to the available resources.
DIY vs. Professional Help
Removing wallpapers may not be rocket science or an impossible task to do on your own. However, you can choose a professional painters Dublin, CA to do the task for you. No matter you are doing it on your own or hiring professionals; both options have a unique set of pros and cons. Refer to the chart below to understand it better. 
| | | |
| --- | --- | --- |
| | DIY Wallpaper Removing | Professional Help |
| Convenience  | This option is convenient as you can do the task at any time of the day. | You would be required to schedule the service within the available slots.  |
| Time Consumption  | Doing the job all by yourself will take longer. | Multiple people complete the task within the given time. |
| Resources Availability  | You may have to lend tools  | Team comes with the required tools |
| Aftereffects  | You may end up damaging your wall if the right method is not applied. | Painting contractors Dublin, CA knows exactly how to work without any damage. |
| Expense  | Will save you money in terms of labor.  | You'll have to invest money. |
| Competence  | You will have to research about the right wallpaper removal method and adhesives | Professionals will do research. |
You can make the best decision for yourself based on the information given in the chart above. 
Conclusion
Wallpapers can completely transform the appearance of a room but when it comes to removing them; the process can be exhausting and frustrating. The good news is that; you can relax, sit back, and hire professional help, like commercial painters Dublin, CA for the purpose. It will save you from all the research work, and you don't have to purchase tools for the task. Also, no need to buy chemical removers because painting contractors Dublin, CA have everything they would need for wallpaper removal.