Custom Painting, Inc. has successfully completed a challenging exterior painting project for Kairos Power in Alameda, CA. Despite encountering various obstacles along the way, our team demonstrated unparalleled expertise and dedication to deliver exceptional results. This project serves as a testament to our commitment to excellence and our ability to overcome unique challenges in the world of commercial painting.
Kairos Power is a big warehouse that serves as a nuclear research and testing facility in Alameda, CA. It is located on an old Navy base because it used to be an old rail hangar built in the 1940s. Before it became a nuclear research and testing facility for Kairos Power, it also served as a manufacturing building. While a lot of old buildings today are too old and need to be demolished and replaced by new ones, most of the industrial and civic buildings of the Navy are built to last for a lot of years. That is why many of them are reused and repurposed.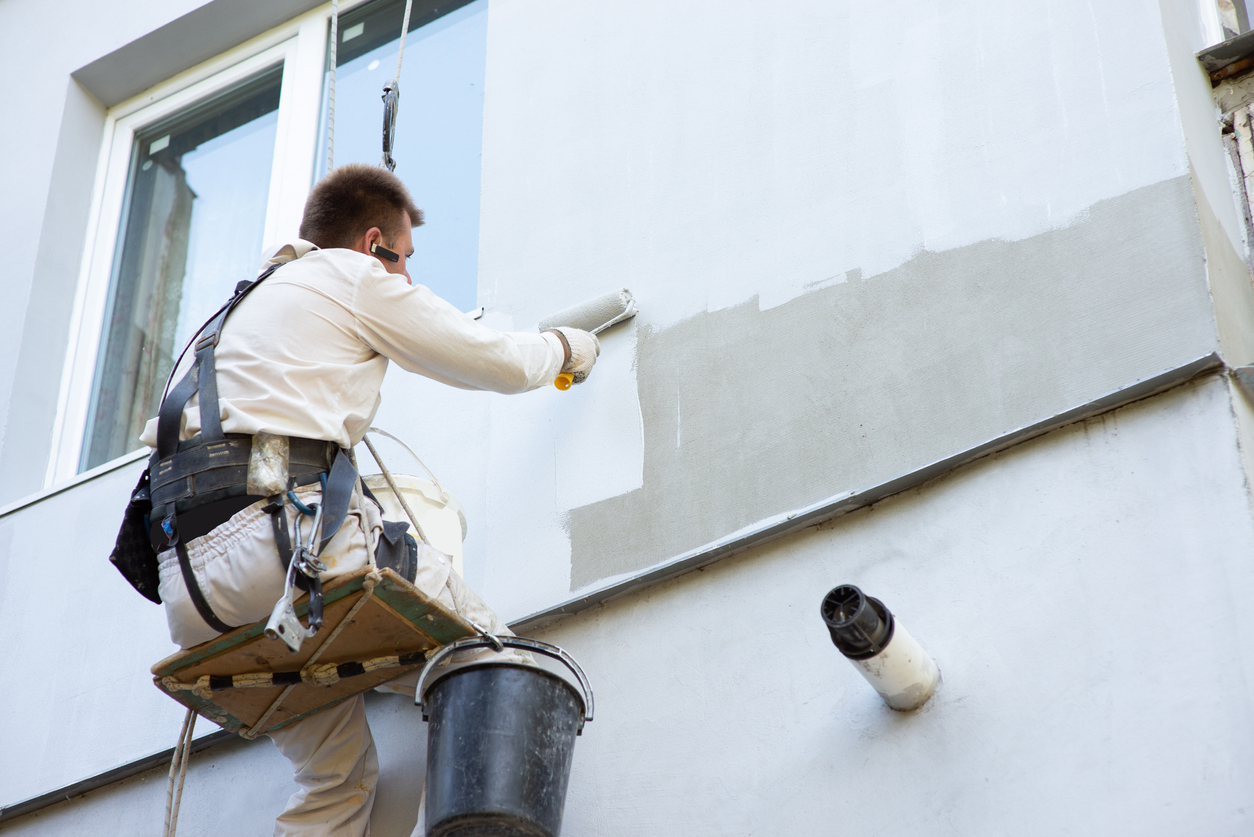 Our team at Custom Painting, Inc. was tasked to repaint the building during the winter months, which was particularly challenging. Our expert painters faced issues with fog, wind, rain, and cold temperatures. But our commercial painters excel at this type of project no matter what challenges they may face, and they were able to finish the task successfully, leading to another satisfied customer. 
Read on below to learn about the different challenges we've experienced during this painting project and how we overcame them.
Challenges Faced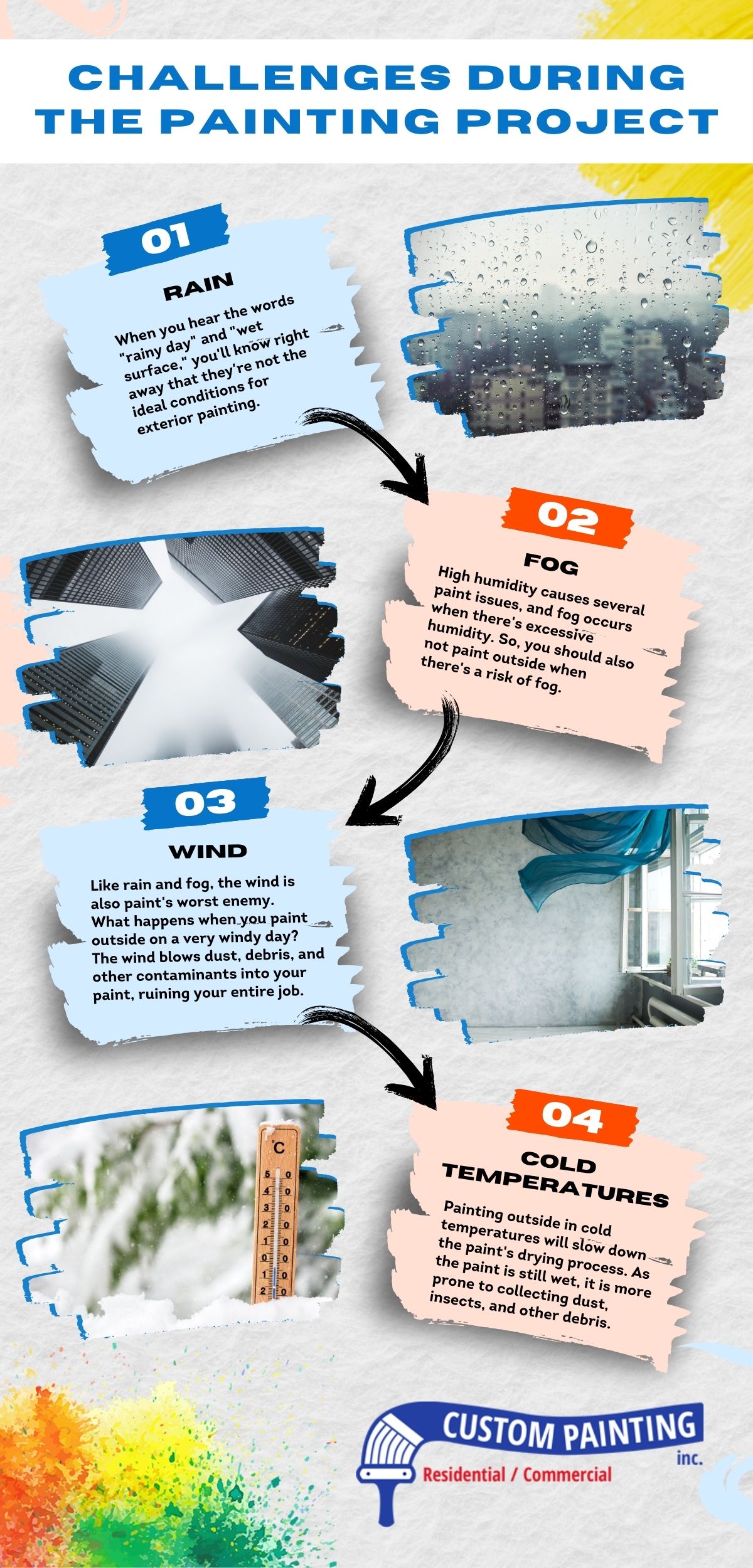 When it comes to exterior painting work, the weather plays a significant impact. It's because it provides problems that could have an impact on the project's outcome, such as severe heat, high winds, and heavy rains. As a result, it is critical for painting businesses to check the weather conditions when painting external surfaces regularly. 
The following are some of the weather-related issues that our crew encountered when painting the exterior of Kairos Power. Understanding how each of these influences exterior painting is critical to get a great conclusion. 
Rain
Heavy rain is one of the most difficult challenges for exterior painting projects, and it was one of the difficulties that Custom Painting, Inc. encountered while repainting the exteriors of Kairos Power. Rain can wipe away the paint, causing it to run or streak, resulting in an uneven and unsightly finish. 
You may take steps to reduce the impact of severe rain on your painting work. One of them is regularly watching the weather prediction and planning the painting schedule accordingly, as our skilled painters did. When rain is in the forecast, it is best to delay the painting until the weather improves. Aside from that, plastic sheeting or tarps can be used to cover and protect already painted areas from rain.
Fog
High humidity can cause a variety of paint problems. Fog arises when there is an excess of humidity. As a result, working on outside painting jobs while there is a chance of fog is not recommended. Excess moisture in the air hinders paint from drying properly and can lead to serious problems such as bubbling and peeling overall. 
It is also not a good idea to paint right after a thick fog or dew has occurred. It's because the wood absorbs a lot of moisture. As a result, it is preferable to allow the surface to air dry for at least a day or two before painting. 
Wind
The wind is yet another foe of paint. It's because when you paint an exterior surface on a windy day, the wind might blow dust and debris into the paint, destroying the job. It's also difficult to dab a layer of paint when the wind is blasting. Even if you can paint on surfaces, there is a good chance that the results will be unappealing since wind might cause the paint to dry too quickly, resulting in insufficient film buildup. 
Furthermore, painting outdoor surfaces in severe winds is risky since it may knock you off the ladder or scaffolding while you are working. Our team waited until the gusts died down or became a moderate breeze, indicating that it was safe to paint outside. 
Cold Temperatures
Painting in frigid weather provides its own set of challenges, which Custom Painting, Inc. has encountered. The process, though, can still be successful with a few tactics. One of the most difficult aspects of painting external surfaces in cold weather is that the paint takes much longer to cure. This is quite inconvenient because it can cause the project's deadline to be extended. 
One solution to this problem is using paint designed specifically for colder weather circumstances. These paints are frequently designed to dry quickly at low temperatures. Another disadvantage of painting in cold weather is that the paint may not adhere effectively to the surface. Because chilly temperatures might cause the paint to thicken and become less smooth, it is critical to prepare the surface before painting to solve this problem. To thin down the paint and make it easier to use, store the paint cans in a warm room or use a space heater.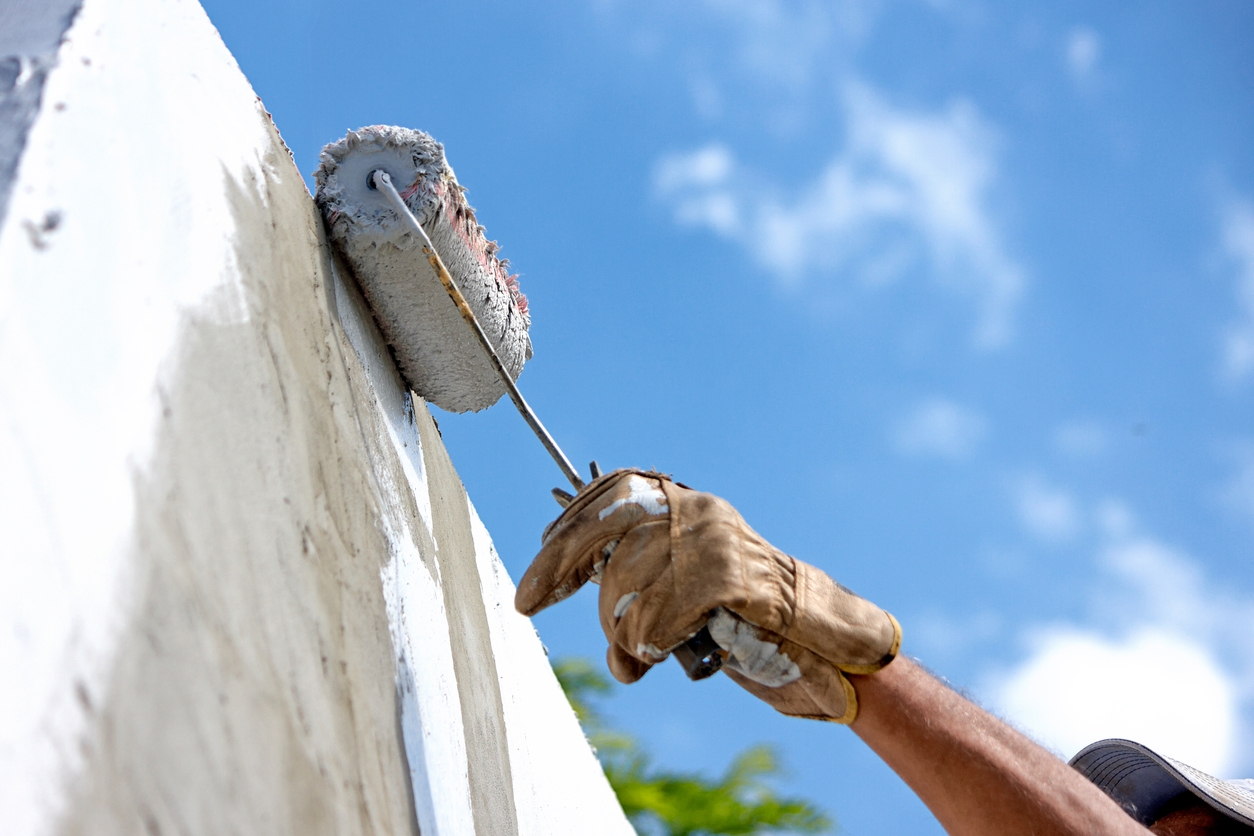 Non-Weather-Related Challenges
Aside from weather-related issues, our crew faced a few other problems during the Alameda project. One feature of the warehouse was its abundance of windows. Overspray and paint drips have to be avoided by shielding 10,000 window frames and glass panes. It was a time-consuming process involving long and laborious work. However, it is worthwhile because the effort ended in a clean appearance. 
Solutions to the Challenges
Despite several hurdles, weather-related and not, our skilled painters at Custom Painting, Inc. completed the Kairos Power exterior painting project successfully. Here are some of the effective methods we implemented:
Monitor the Weather
Our crew kept a tight eye on the weather to see if there were any bad weather. This is a vital phase in exterior painting since the team must know that the weather will suit the painting. If we do not check weather updates on a frequent basis, we may experience high winds or rain during the painting process, causing the project to be ruined. 
Use Quick-Dry Products
Our crew had to employ materials that dry quickly in chilly temperatures. This is useful since we can ensure that no particles or debris stick to the paint because it dries quickly. The paint we used for this project is called RESILIENCE by Sherwin-Williams. It is a durable exterior paint that has MoistureGuard technology, allowing the surface to resist mold and mildew. It is the best paint for exterior surfaces as it is made to withstand different weather conditions.
Delays to the Project for a Few Days
Because rain was the main difficulty, we had to postpone the project for about 20 days, or about 3 weeks. However, this is a workable approach because rain can cause newly applied paint to dry on the surface but not totally and thoroughly cure. This causes water bubbles to form beneath the dry layer, giving the surface the appearance of alligator skin. 
Even though we had to postpone the project for a few days, we nonetheless completed it as quickly as feasible. In addition, our contracts include a clause that provides for extra time due to extreme weather if necessary.
Conclusion
The most difficult issue that our paint crew faced while working on Kairos Power's warehouse was the harsh weather. We experienced a 20-day (approximately three-week) delay due to weather. Aside from the weather, the problems were usual with repainting an ancient structure, such as peeling and cracked paint. Despite these obstacles, Custom Painting, Inc. successfully transformed and refurbished an old structure into a new and modern facility, much to the delight of our client.
If you've bought or leased a commercial building that you want to transform into a new business space, Custom Painting, Inc. can surely help you. Our full-service residential and commercial painting company has served the Bay Area for more than 40 years. If you are interested in our services or if you wish to request a free quote, you may fill out this form or call us at 925-294-8062.