Wallpapers have been an interior design staple since the 16th century. Like many decorative options, wallpapers go in and out of fashion. However, wallpapers have significantly evolved not just in terms of design but also in terms of ease of application and removal.
While many homeowners love the look of wallpaper, others want to get rid of it. Designs and patterns that were the trend many years ago simply don't work with modern décor and furniture. 
Some have reasons other than just aesthetics. If there are visible stains bleeding through the wallpaper or if there is a noticeably musty smell, it could be a sign of underlying problems like mold and mildew. The trapped moisture underneath the wallpaper can cause mold and mildew to develop, thus contributing to wall damage and poor indoor air quality. 
In those cases, it may be time to get rid of your old, outdated wallpaper. And why is wallpaper removal important? Here are the following reasons I need wallpaper removal and replacement.
It can uncover underlying damage.

It can help update and modernize your interior space.

It can help prevent damage to drywall.

Removal of old wallpaper might be urgent, especially if you have a family member with asthma, allergies, or breathing conditions. 
Here are the benefits of updating your walls, whether it's by new wallpaper, paint, or any other option to refresh their look:
It boosts the mood of your home.

It protects and prevents damage to your home.

It beautifies the look of your interiors.

It improves indoor air quality.

It increases your home's resale value.
Common wallpaper removal and replacement issues

Here are some of the common issues with wallpaper removal and replacement, as well as solutions for each:
Air bubbles and wrinkles
The cause – Trapped moisture. 

The solution – Smooth out any air bubbles or wrinkles with a sponge, clean cloth, or wallpaper smoother as you hang each new strip of wallpaper.
Overlapping or misalignment 
The cause – Causes may vary, including wrong paste or glue, old paste, and, of course, wallpaper that is cut or trimmed incorrectly and inaccurate and hasty installation.

The solution – Be patient and take your time to ensure proper alignment. Make sure to cut your wallpaper correctly and use appropriate paste or glue. Use a carpenter's level or plumb line to make sure that each strip is kept straight and smooth so that they are closely aligned together for a seamless finish.
The wallpaper doesn't stick 
The cause – Most likely wrong paste or adhesive. 

The solution – There are various types of wallpaper paste, glue, or adhesive specifically designed for each type of wallpaper. Know the type of wallpaper you'll be hanging before buying paste or adhesive, and make sure to follow the manufacturer's instructions. For instance, vinyl wallpaper requires vinyl over vinyl adhesive. Using the right paste ensures proper adhesion.
Damaged wallpaper during installation
The cause – Lack of surface preparation or improper surface preparation.

The solution – Prepare the surface first before hanging your wallpaper. Remove bits of paper and glue left over from the stripping. Clean the surface and inspect the walls for other flaws, such as cracks and holes. Repair these flaws by applying filler. Once the filler dries, sand the surface to make it smooth. Apply primer to walls before hanging your wallpaper. 
Professional wallpaper removal services versus DIY
Should you decide to DIY or hire a professional to hang your new wallpaper? Weighing up the pros and cons of professional and DIY wallpaper removal can help you make sound decisions and plan accordingly. The best painters in the Bay Area also offer wallpaper removal and replacement services.
DIY wallpaper removal – pros and cons
The pros:
You have full control over the budget and timeline of the project.

It allows you to bring your own ideas.

Savings on labor.
The cons:
Time-consuming.

Lack of skills and experience in wallpaper removal.

Risk of mistakes.

Risk of injury.

Most likely below-par results.
Professional wallpaper removal – pros and cons
The pros:
Professionals have the skills, experience, and the correct tools to complete the project.

Professionals can handle different types of wallpaper.

No risk of damage or injury.

You can avoid mistakes by handing the job to professionals.

It saves you time.

It saves you money.

Safety and efficiency.

High-quality results.
The cons:
The upfront costs of hiring a professional wallpaper removal service may be high. Still, with the quality and long-lasting results it provides, it can save you money.

Lack of control over the project.
Ultimately, the decision to go DIY or hire a professional depends on the following factors: size and complexity of the project, budget, and personal preferences. Consider the above factors and make an informed decision that best suits your needs.
Due to how complicated wallpaper removal and installation is, hiring a professional to do the work is definitely better, especially if you are dealing with old wallpaper (traditional wallpapers are usually difficult to remove) or if you have a large room or many rooms to deal with.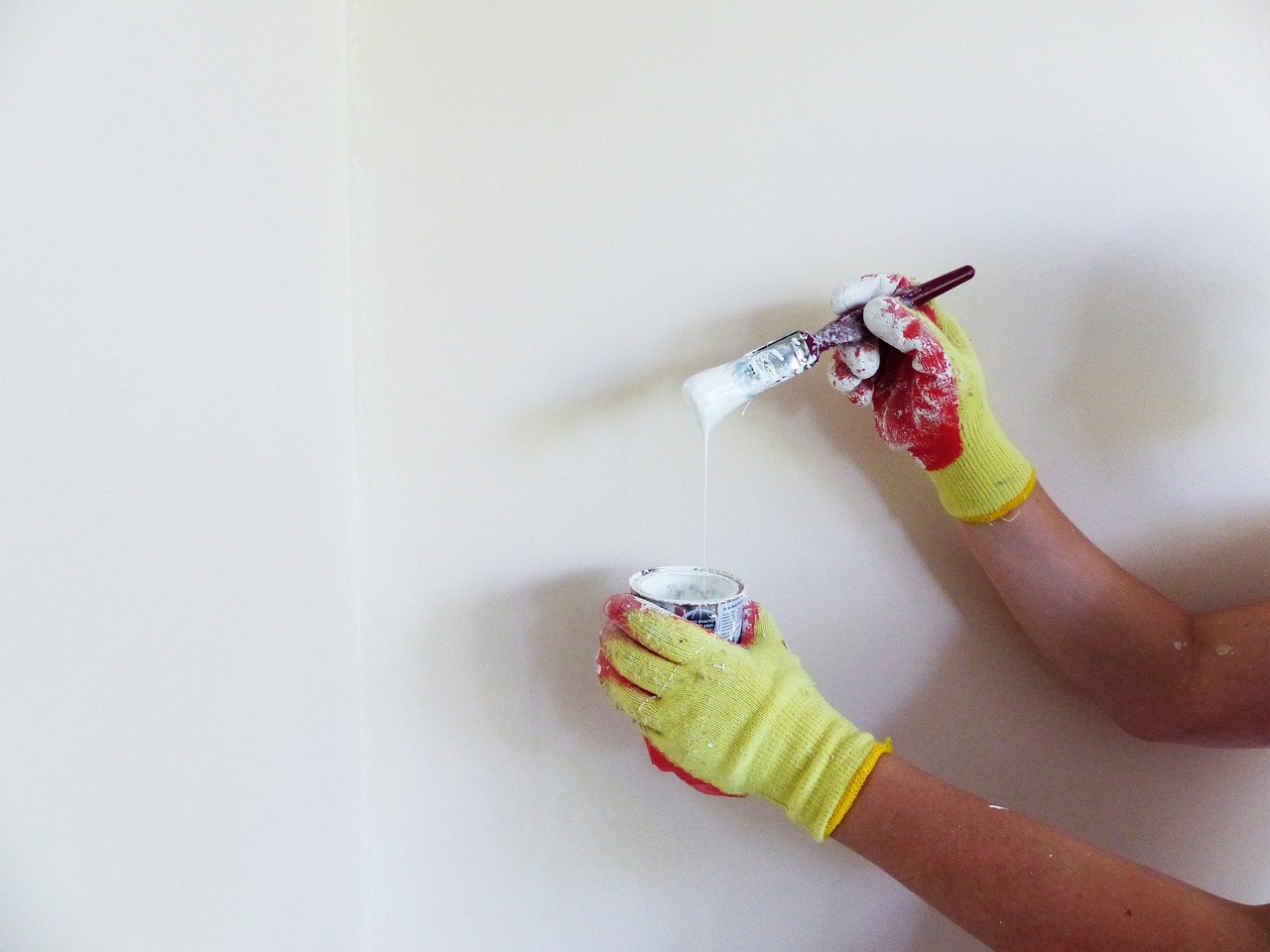 Other alternatives instead of installing new wallpaper
If you don't want to see another wallpaper, there are other decorating options to choose from.
Paint – Nowadays, the majority of homeowners prefer paint over wallpaper. In terms of application, paint is less laborious than wallpaper. Also, paint is more versatile, especially if you have striking furniture and décor to match.  Custom Painting, Inc.'s team of interior painters in Dublin, CA,

can help you through the process. You can get in touch with them to come over to your property so they will quote the project accordingly and do everything that professional painters usually do – deliver quality results to your satisfaction.

Decals – Vinyl decals are one of the trendiest substitutes for wallpaper. If you have the tendency to change designs or are renting a home or apartment, vinyl decals can be an excellent option. There are many designs to choose from, ranging from simplistic and minimalistic to colorful and elaborate. The ease of installation and removal are some of the decals' biggest selling points. Decals can also be re-positioned in any way you like.
Stencils – Stencils give style and pizzazz to any space. While stenciling can be a time-consuming process, it brings satisfactory results. There are tons of designs, colors, and patterns to choose from, and they can be applied to any drywall type. You can choose a feature wall or go all over your room with stencils.
Temporary wallpaper – Maybe you

do

miss wallpaper, but you don't want to commit to permanent wallpaper, or you are a renter. The theory behind temporary wallpaper is simple – it comes off easily. However, some brands may leave behind marks on the surface. If you want to hang temporary wallpaper, it would be advisable to ask the store for a sample and then test it out on an inconspicuous area of your wall, especially if you're concerned about the marks being left.

Molding treatments – The beauty of molding treatments nowadays is that they are easy to install; you don't even have to be a professional carpenter to do it. While this option is more permanent than decals, moldings tend to be more appealing than wallpaper. They can even boost your home's resale value.
Colored tapes – This method uses easy-peel and colorful decorative tapes to create custom designs on your wall. You can go monochromatic or very colorful – the possibilities are endless.
Conclusion
Wallpapers are not everyone's cup of tea. So, if you want to get rid of your wallpaper and modernize your space, remember that wallpaper removal can be time-consuming. You may run the risk of making a mistake or damaging your drywall if you're not doing it right, especially if you don't have the skills or experience. So, it's better to hire a professional to help with wallpaper removal and enjoy the benefits of their services. 
At Custom Painting, Inc., our team of painters and home improvement experts will work with you to come up with solutions that will give you the desired results. To learn more about our residential and commercial painting services and wallpaper removal services or request a free estimate, call us at 925-294-8062 or message us here. We love to hear from you!