The appearance of your commercial space plays a pivotal role in shaping the perception of your business. Whether you're running a retail store, an office, or a hospitality establishment, how your space looks can significantly impact your clients, customers, and employees. 
Choosing the right commercial painter is essential when it comes to enhancing the aesthetics and maintaining the integrity of your commercial property. 
Key Criteria for Selecting the Right Commercial Painter
Prioritizing safety measures adds another layer of assurance, ensuring a secure working environment. Here are the key factors to check:
1. Experience
Experience is a fundamental criterion when choosing a commercial painter. Look for a painter with a proven track record of successful commercial projects. Experience indicates a deep understanding of commercial painting projects' unique requirements and challenges, such as working within specified timelines and accommodating business operations.
2. Business License
A valid business license is non-negotiable. It demonstrates that the painter operates within legal and industry standards. Licensing also provides you with a degree of protection, as licensed painters are more likely to adhere to safety and quality regulations.
3. References
References from past clients are an invaluable resource when evaluating a commercial painter. Request references and take the time to contact previous customers. Their feedback can offer insights into the painter's reliability, professionalism, work quality, and overall satisfaction.
4. Portfolio of Work
A strong portfolio of previous projects is a visual testament to the painter's expertise. Review their portfolio to assess the quality and diversity of their work. This will give you a sense of their capabilities and whether their style aligns with your project vision.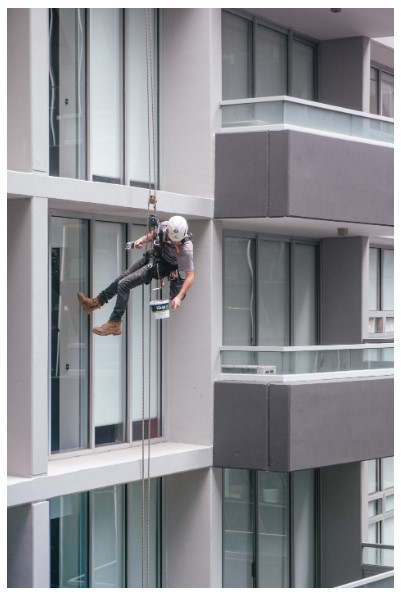 5. Insurance
Verify that the commercial painter carries the appropriate insurance. Insurance protects against accidents, property damage, or injuries during the project, protecting you from potential liability.
6. Competitive Pricing
While cost should not be the sole deciding factor, it's crucial to receive clear and detailed estimates that are competitive and transparent. Comparing quotes from multiple painters ensures you receive a fair price for the quality of work provided.
7. Warranty and Guarantees
Reputable commercial painters should provide warranties that demonstrate their commitment to the quality and durability of their work. These assurances offer peace of mind, ensuring that any unexpected issues or defects that arise after the project's completion will be promptly addressed. A solid warranty and guarantee reflect the painter's confidence in their services and can provide you with a safety net.
What Skills Should Commercial Painters Have?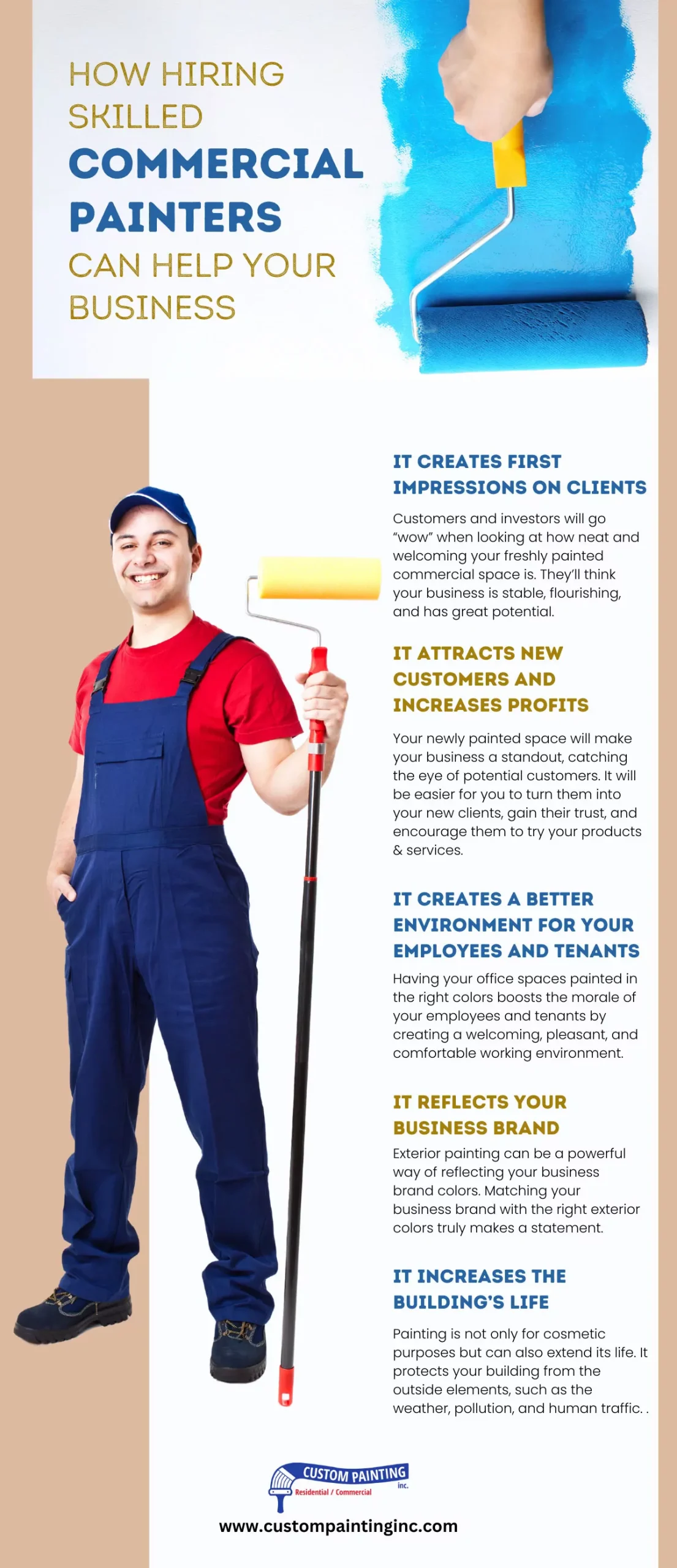 1. Specific Commercial Expertise
Different businesses have different requirements when it comes to painting. If you have a restaurant, a retail store, an office, or any other commercial space, choosing a painter with expertise in your specific industry is essential. They will be more attuned to your needs, including the type of paint, colors, and design choices that work best for your business.
2. Quality of Materials and Workmanship
Inquire about the quality of materials and workmanship the painter uses. High-quality paints and materials ensure a longer-lasting finish that can withstand the unique demands of a commercial setting. Additionally, a skilled painter should be able to demonstrate a commitment to precise workmanship, producing a flawless and durable result.
3. Cost and Transparency
While cost is a significant factor, it should not be the sole criterion for choosing a commercial painter. Look for transparency in pricing, with clear and detailed estimates that include the cost of labor, materials, and any additional charges. This ensures that you completely understand the expenses associated with your project.
4. Timeliness and Scheduling
Commercial spaces often have specific schedules and deadlines that must be adhered to. Hiring an efficient painter who can work within your time constraints is important. Discuss the project timeline, including start and completion dates, to ensure minimal disruption to your business operations.
5. Warranty and Guarantees
A reputable commercial painter should offer warranties or guarantees on their work. This demonstrates their confidence in the quality of their services and assures you that they stand behind their work.
6. Environmental Practices
Many businesses seek to reduce their environmental impact in today's environmentally conscious world. Inquire about the painter's environmental practices, including the use of eco-friendly paints and responsible disposal of paint-related materials.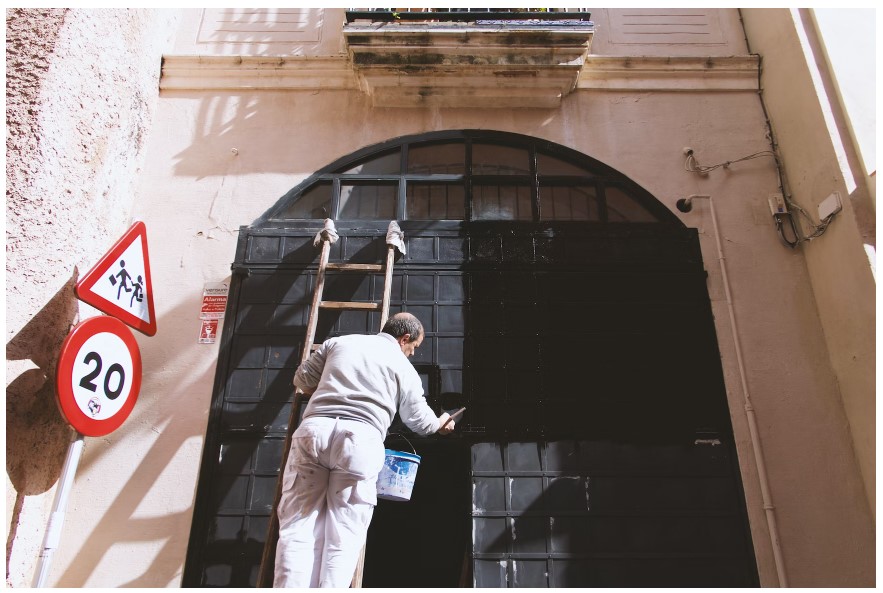 7. Communication Skills
Effective communication is essential for a successful painting project. The right commercial painter should be a good communicator who understands your vision and expectations clearly. They should be approachable to your queries and concerns throughout the project, ensuring a smooth and collaborative experience.
8. Compliance with Regulations
Commercial spaces often have specific regulations and standards that must be met, including safety and accessibility requirements. A qualified commercial painter should understand these regulations and ensure your project adheres to them. This can prevent potential legal issues and provide a safe environment for everyone.
9. Attention to Detail
Attention to detail is a hallmark of a skilled commercial painter. The ability to meticulously prepare surfaces, apply the paint evenly, and address even the smallest imperfections is crucial for achieving a professional and lasting finish. A painter with a keen eye for detail can transform your space into a work of art.
10. Equipment and Technology
In today's modern world, technology plays a significant role in painting. The right commercial painter should be equipped with the latest tools and equipment designed specifically for painting. This not only enhances the quality and efficiency of the work but also ensures a safer working environment.
11. Cleanliness and Maintenance
Maintaining a clean and organized work area during a painting project is important. A professional painter should prioritize cleanliness by protecting your furniture, fixtures, and flooring from paint splatter and ensuring the workspace is tidy throughout the project. A clean work environment minimizes disruptions and allows your business to operate smoothly.
12. Problem-Solving Skills
Painting projects can encounter unexpected challenges. Whether it's addressing hidden structural issues or adapting to changing circumstances, a skilled commercial painter should possess problem-solving skills to overcome these obstacles and keep the project on track.
13. Competitive Pricing
While cost should not be the sole deciding factor, choosing a commercial painter whose pricing is competitive and aligns with your budget is still important. Compare quotes from multiple painters to ensure you get a fair and reasonable price for the quality of your work.
14. Carpentry Skills
Commercial painting often involves more than just applying paint. Painters with carpentry skills can address minor structural issues, repair damaged surfaces, and prepare the area for painting. This multifaceted expertise ensures that the project is comprehensive and that any underlying issues are resolved.
15. Comfort with Heights
Commercial spaces often include high ceilings and tall walls. Painters who are comfortable working on scaffolds or ladders at various heights are essential for ensuring that every part of your space is expertly painted.
16. Expertise with Drywall
Commercial painting frequently involves working with drywall. Painters should be skilled in repairing and prepping drywall surfaces to create a smooth and flawless canvas for painting.
17. Knowledge of Spray Painters
Using spray painters can accelerate painting projects and deliver a consistent finish. Commercial painters should have expertise in handling spray painting equipment and achieving professional results.
18. Familiarity with Power/Pressure Washers
Preparing surfaces for painting often involves the use of power or pressure washers to remove dirt, debris, and old paint. Commercial painters should be skilled in using these tools effectively.
Conclusion
Choosing the right commercial painter is a decision that can transform the aesthetics and overall perception of your business space. It ensures that your project is handled by a skilled professional who can deliver top-quality work within the specified timeline. 
A reputable commercial painter not only enhances the visual appeal of your space but also complies with industry regulations and safety standards. This investment in your business's image and functionality can leave a lasting impression on your clients, customers, and employees.
If you're looking for a trusted and experienced commercial painting contractor, Custom Painting, Inc. is there to help. You can reach us at 925-294-8062 or fill out this contact form. We look forward to helping you achieve a beautifully painted and inviting commercial space.